Overview

Unlike mammalian drug substance manufacturing which requires prolonged periods of cell culturing, mRNA drug substance production is a cell-free process that involves linearization of plasmid DNA(pDNA), mixing it with enzymes and nucleotides to allow for its transcription into mRNA, and mRNA capping, etc.
Samsung Biologics mRNA Service
A Trusted Navigator in Your Novel Path to Success
We offer one-stop mRNA Manufacturing
mRNA and saRNA / DS & DP Manufacturing / Aseptic Fill/Finish / Process Development / Process Characterization
Our experts serving you through a fully-equipped MSAT laboratory, dedicated to mRNA
Our customized quality control of mRNA are conducted in-house, enabling faster release without undue delays
With Samsung Biologics' mRNA service, let's forge ahead towards the next breakthrough
Manufacturing
Process

mRNA production begins with in-vitro transcription, where the linearized pDNA is synthesized to form mRNA in a reactor. Then, the mRNA is purified in steps involving chromatography and ultrafiltration(UF)/diafiltration(DF) to prepare for the formulation stage. Finally, the purified mRNA is encapsulated into Lipid Nanoparticles (LNP) through precise pump mixing technology to prevent degradation and to allow for in vivo delivery.
Storage

Because mRNA is susceptible to degradation upon changing temperatures, it is subject to strict storage conditions. Samsung Biologics is able to meet such challenges through its upright and walk-in storage systems with temperatures as low as -70°C as needed.
How mRNA vaccines are made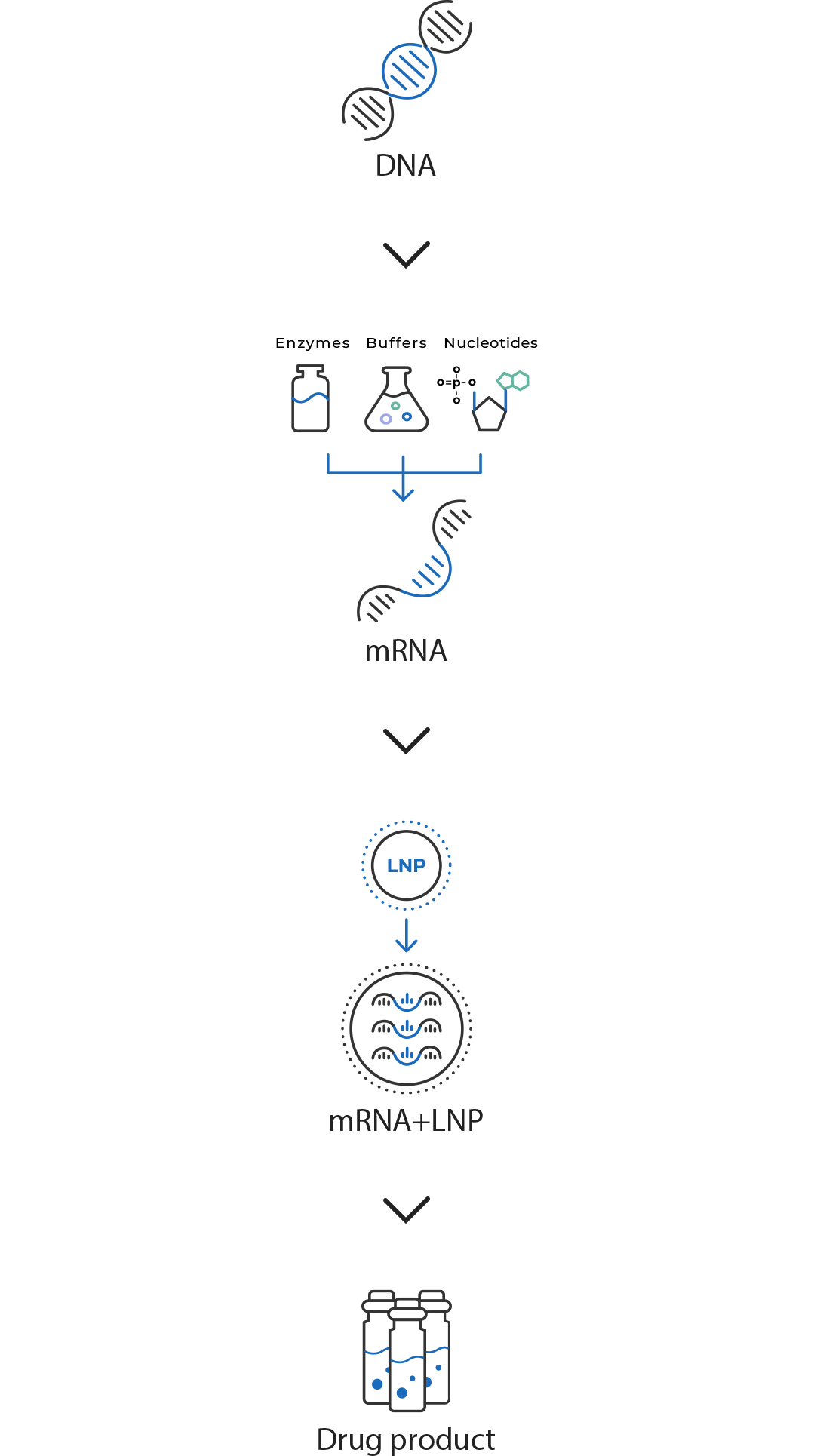 DNA

Enzymes + Buffers + Nucleotides = mRNA

mRNA+LNP

Drug product
Why Samsung Biologics?
As the global biologics market gets more competitive, clients' needs and market uncertainty is growing more than ever before. Samsung Biologics promises that your invaluable molecule will be delivered to the market safely and quickly. Whether you are looking for standalone services or a seamless, integrated manufacturing service from clinical to commercial, we are focused on providing an unsurpassed level of customer service dedicated to the needs of our individual customers. We believe and are committed to an on-time, in-full delivery of the products we manufacture with our flexible manufacturing solutions and proven expertise.
Fully Integrated
One Stop Service

Offering services from clinical to commercial manufacturing with dedicated QC lab and RA support
Modernized State
of the Art Facility

Newly built facilities fully compliant with cGMP that guarantee you the best environment for your product
Prompt
Responsiveness

We value your time and
promise a prompt response
Flexibility from
1K to 15K

With various different scales, we have a solution for you